WHAT TO READ
Little Fires Everywhere:
Celeste NG's second novel is one bound to take you on a breath-taking journey. Set in Ohio, USA, the novel begins with a house being set to fire, lending the name to the book. The culprit is revealed as early as the second page. Now, the book takes us back in time, taking us on a ride to the present day. Written in third person, the author does a fantastic job of developing no fewer than 4 principal protagonists and a number of side characters with an exceptional level of details.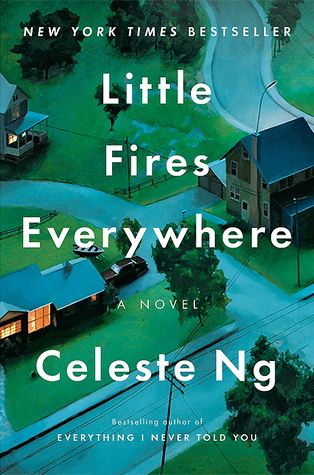 The city of Shakers Height in Cleveland is a seemingly Utopian society, with residents having their lives governed by rules and living in complete peace in harmony. Things change when Mia arrives with her daughter, Pearl to this seemingly perfect city and is rent a house by Mrs. Richardson, the living embodiment of the perfect lifestyle of Shakers Height.
The novel is exceptionally well crafted, with a number of available points of view owing to the presence of multiple protagonists. It revolves around a number of plots including motherhood, friendship, the relationship between siblings, influence of society and many more. The ending will leave you pleasingly satisfied as a circle of events and characters is perfectly completed.
WHAT TO WATCH
A hilarious 1999 comedy by director Guy Ritchie, Snatch is a wonderfully thought out roller coaster ride of laughs. Featuring an ensemble of Brad Pitt, Jason Statham, Vinnie Jones and Benicio del Toro, the movie opens with a jewel heist of a Jewish diamond shop. Franky Four-fingers(Benicio del Toro) flies to London with an 86 carat diamond, hoping to get a better price selling to the Brits. A Russian fellow-thief recommends a gunsmith, since Franky is fearful of his safety. Boris, the recommended gunsmith, is supposed to be impossible to kill. He conspires to steal the diamond from Franky, and hires two African American pawnbrokers to do it for him.
Parallely, the top gangster in London, Brick Top, has Tommy and Turkish(Jason Statham), help him rig aKSHAT a match of unlicensed boxing. Turkish and Tommy need a caravan, and attempt to buy one off Mickey O'Neil(Brad Pitt), a gypsy. This is 1999, so naturally, Brad Pitt is secretly a bare-knuckle boxing champ:/. "Aa fookin 'ate paikees" is an oft-heard phrase when watching the movies.
The diamond, in the meanwhile, is stolen(after a considerable amount of trouble) by the pawnbrokers. Boris cuts off Franky's hand, for the case with the diamond is cuffed to it. Boris is then robbed by the man who was supposed to be delivered the diamond, Avi. Avi is robbed by the pawnbrokers, who get into trouble with Brick Top, the gangster. The pawnbrokers are robbed by Avi again, who comes back with hired muscle: Bullet-Tooth Tony(Vinnie Jones). Turkish and Tommy convince Mickey to fight for them in Brick Top's boxing match.
Who comes out on top? Where does the diamond finally end up? The hilarious twists and turns in the film are thoroughly enjoyable.