Delhi 6
Cover Art of Album
The soundtrack album released amidst the euphoria of Oscar and Grammy nominations, Golden Globe glory and huge media hype for A.R. Rahman. Each of his release is awaited with bated breath and high hopes. So, let's check if the whiz kid of Indian music hits the money with this ten-track album.
The beginning is pious with spiritual tracks Aarti (Tumre Bhavan Mein) and Arziyan. The ensemble of female singers, laces of sitar and the cymbals in Aarti radiate a spiritual aura and a vision of circumambulations around the inner sanctum of a temple fills the eyes. The religious fervour is carried forward with
Arziyan
, a qawwali sung by Javed Ali and Kailash Kher. During its long duration of 8 minutes and 41 seconds, never does a word go unnoticed or an alaap repudiated. The pickups of the tablas, the harmonium, subtle guitar laces, the beautiful lyrics and the skilful execution by the duo- this qawwali is of the same ilk as Piya Haji Ali and Khwaja Mere Khwaja. Rahman once again stamps his authority with this genre.
Now here are some surprises. '
Bhor Bhaye
' is a duet featuring Ustad Bade Ghulam Ali Khan and Shreya Ghoshal. Yeah, you heard it right! Rahman recreates the old song in Gujri Todi raga by juxtaposing Shreya Ghoshal's ever-saccharine vocals with Ustad Khan's dexterous original rendition. However, Shreya Ghoshal's voice sounds a little incongruous in spite of her skilful performance and the track disappoints a bit. If Bhor Bhaye seems mediocre to you, the title track '
Delhi-6
' is upbeat and funky. Tanvi's stylish rendition, the hip-hop beats, some French lyrics contributed by Vivienne and Blaaze's rap all make for a memorable listen.
If you are waiting for that love song which is an absolute must in a Bollywood soundtrack, Rahman presents a gem in the form of '
Dil Gira Dafatan
'. This Indian classical-meets-Broadway track is packed with a rich variety of influences ranging from blues to Western Symphony and the multiple layering of sounds accentuates the mesmerising effect it has on the listener. Ash King's mellow vocals, the keyboards, slow strings, bagpipes, Chinese violins and Chinmayee's cameo at the end combine to create musical nirvana and after the five and a half minutes elapse, you will be left yearning for more. Prasoon Joshi's writing is top-notch. This is also Ash King's Bollwood singing debut.
If you are thinking that the album sounds too melancholy, '
Genda Phool
' will change your opinions completely. A folk song about the love-hate relationship of a girl with her in-laws, Rekha Bharadwaj (Vishal Bharadwaj's wife) starts off with her rustic vocals and the song sounds pretty normal till the wicked beats make their way. Things then go berserk and the bass, wah guitar and drum beats play alongside the folksy tune to make a highly enjoyable number. '
Hey Kaala Bandar
' is as crazy as its name. Old tunes have been reused and this is probably a hangover from the Ghajini and Yuvvraaj soundtracks. The bridge is grotesque and the rap is utter balderdash. The pastiche
includes some parts of 'Behka' from Ghajini and 'Dil Ka Rishta' from Yuvvraaj and the track is outrageously bizarre to say the least. Do not miss it for its sheer shock value!
Mohit Chauhan rediscovers himself with '
Masakali
'. This song is about a pigeon and was initially not to be included in the film. It's hard to believe that this is the same man who sang 'Tum Se Hi' from Jab We Met. The no-holds-barred singing, a quirky accordion solo credited to A.R. Rahman himself and the catchy bassline form the ingredients of this instant hit. It is, according to me, one of Mohit Chauhan's best works. Next up is '
Noor
', a short poem penned by Prasoon Joshi and narrated by the stellar Amitabh Bachchan. Joshi talks about finding the Higher Lord in our hearts rather than idols or images and advocates love for humanity irrespective of religion.
Rahman saves the last and the best for himself in '
Rehna Tu
'. He delivers the song with high-pitched passion and Benny Dayal and Tanvi Shah provide soothing backing vocals. The song is about loving your dear ones for what they are, disregarding their miniscule blemishes. The lyrics are truly beautiful, some of the best I have heard in a long, long time. The song dishes out a potpourri of sounds- lounge beats, some heavily programmed sounds, pleasant guitar riffs and of course, Rahman's soulful rendition. As the lyrics come to an end, Rahman takes the song to another high with his continuum fingerboard solo in which he tweaks an Indian raga along with slow strings playing in the background to synthesise a one-of-its-kind blissful acoustic experience. Arguably, Rahman's best of all time.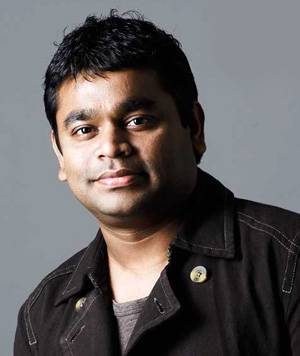 Everyone knows who he is!!!!
Looking back, this film score is a chef d'oeuvre and is grossly underrated and overshadowed by the success of Slumdog Millionaire. If you thought A. R. Rahman was head and shoulders above his contemporaries, he raises the bar even higher till the connoisseurs simply go gung-ho. The album is a milestone in Prasoon Joshi's writing career Lyrical beauty is opulent, the melodies are haunting and a large variety of themes and musical influences have been encapsulated by this album. Vintage stuff, highly recommended.
MY PICKS: Justice for all- the entire album!
INTERESTING FACT: The continuum fingerboard or the Haken continuum is played by just 15 international musicians and A. R. Rahman is one of them. The list also includes Jordan Rudess of Dream Theater!
(Links to the music videos are hyperlinked to the song name)
-- Contributed by Niranjan Thakurdesai