Hey everyone. Wrap yourselves up and chill. We're back for the winter. Read on for this week's dose of what to read, watch, listen, and waste time with.
Watch:
The Man in the High Castle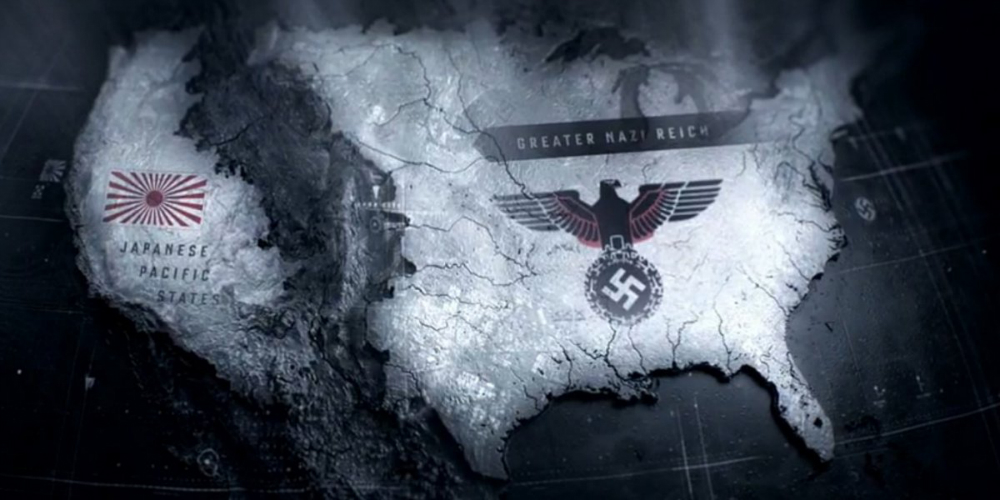 So what would have happened if the Allied Powers had lost World War II?
Novelist Philip K. Dick pondered that question in his 1962 Hugo Award-winning novel "The Man in the High Castle," which Amazon has adapted into, arguably, its most-anticipated original series. For those of you who have not read the novel, the setting is the United States in 1962 in an alternate universe where Germany and Japan won WWII. The two winners have now divided up the US (and the rest of the world, but that's not touched upon in the series just yet). Japan has the West Coast to the Rocky Mountains, there's a neutral zone, and the Nazis own everything else to the Atlantic Ocean.
In the TV series (not the novel) Joe Blake (Luke Kleintank) is a young member of the American resistance in New York tasked with driving cargo to Canon City in the neutral zone. At the same time, Juliana Crain (Alexa Davalos, whose character's name has been changed to better fit the show) and her boyfriend Frank Frink (Rupert Evans) are eking out what passes for a normal life in occupied territory when Juliana's sister Trudy is killed for working with the resistance. Before she dies, Trudy gives Juliana a film version of The Grasshopper Lies Heavy. Juliana watches it despite Frank's reservations and decides to travel to Canon City in Trudy's place to deliver it to the eponymous Man in the High Castle.
Briefly and spoiler free, I can honestly say I enjoyed this series. Although, it has its problems (more on that later) it stays as close to the novel as one could reasonably expect. Like any good TV drama, Dick's version of Man in the High Castle juggles multiple characters whose storylines all occasionally intersect. There's no one plot that really constitutes the "main" storyline (Juliana Frink's search for the titular Man in the High Castle comes the closest), but the real value of the work is in how it uses those characters and their perspectives to build a believable reality.
Series creator Frank Spotnitz (of X-Files fame) does an outstanding job carrying over Dick's setting and tone. Ridley Scott's (who is an executive producer) influence is also seen in the visual style and rich detail. You spend the bulk of these 10 episodes either in alternate-1960s New York and San Francisco, and the show absolutely nails the combination of familiar-and-alien. The show evokes the look and feel of quintessentially American cities that have been occupied for a decade or so, familiar foundations draped over with out-of-place swastikas and rising suns.
This extends to the set and costume design, which meld late-1950s fashion and hairstyles with the same alien imagery. West coast office buildings are outfitted with Japanese-style sliding doors. Suburban New York homes and families would be right at home in the first season of Mad Men, except for the kids walking around in Hitler Youth uniforms. For an example, have a look at downtown San Francisco
And here is New York's Times Square
The problems with the TV series are twofold. Firstly, throughout the series, its three central protagonists are its biggest liability. The acting by the leads is inconsistent, and their characters are poorly written. Therefore sympathizing or relating to them is difficult. Partly, this is because PKD wrote them this way in his novel. But also the leads are outshone by the supporting cast (consisting of Cary-Hiroyuki Tagawa, Rufus Sewell and Joel de la Fuente) all of whom deliver amazing performances). Secondly, the creators tried to give simmer-to-a-boil plot structure to the show, that kinda works, but leads to some really boring mid-season episodes. Don't worry. If you persist, your patience will be rewarded.
All in all, I'd really recommend this series to you. The first season only consists of 10 episodes, all of which have been released by Amazon Prime. Do yourselves a favour and read the book before you watch the series. It's an amazing novel and will help you understand the mildly confusing plot a lot better.
Goddamn the opening title sequence is hauntingly good. Seriously, just watch this thing. It gave me chills. Spectacular stuff.
The series creators have said that they plan to run the show for 3-5 seasons. Although, there is a lot of stuff in the novel that is yet to be explored, somehow at this point, I really doubt they'll get there without adding a lot of extraneous plot items.

Someone has uploaded all the episodes on DC, though they are not 1080P. If someone manages to get hold of a 4K version, contact me ASAP.
Read:
It's Kind of a Funny Story - Ned Vizzini
This is a story about Craig, a teenager who is fighting with depression, who on finding himself losing, accidentally checks into a mental health ward while seeking help. It might seem like just another YA book, but what sets it apart is the way the author describes aspects of depression in ways that I believe everyone can identify with, whether it's the Cycles that we find ourselves trapped in, or the Shift that we yearn for. The description of Craig's thoughts and experiences at the mental ward are very authentic, as the book was written by the author after he'd checked himself into a psychiatric hospital for 5 days too, so the book can almost be seen as semi-autobiographical. Craig attends a prestigious high school, whose entrance test he devoted an entire year to prepare for, but after getting in, he is overwhelmed by the pressure and loses his drive, which is in stark contrast to his best friend Aaron, who got in and managed to keep up, seemingly without breaking a sweat, and whiling away most of his time smoking up. This state of mind is one I'm sure a lot of people can relate to, given the nature of competitive entrance tests here in India, which makes you question if it was worth it even after clearing them. The essence of the story is the time Craig spends at the psych ward, getting to know numerous other patients with a variety of mental health issues, while also trying to come to terms with his sense of self-worth and the influence of his friends from his life outside the ward. The author does a good job of fleshing out his characters uniquely, while also describing the ways they are crippled by their illnesses, which leads to interesting incidents.
In summary, this is a book that takes a closer look at depression, and especially the 'sixth-life crisis' as it is termed in the book. Also I should probably note that even after he attained fame and critical acclaim for this book, published in 2006, he still ended up losing the battle against depression and committed suicide in 2013.
Note: This book also has a movie adaptation, which I can't comment on since I haven't watched it.
One of the few times YouTube recommendations actually lead you onto something nice. A band that calls themselves an ambient pop collective, Cigarettes after Sex has a very dreamy and calming feel, coupled with simple yet beautiful lyrics, well at least I think so. They have released only two, short albums, one of them this year itself. Songs like "Dreaming of You" and "Nothing's Gonna Hurt You Baby" from their initial release are the first one's I heard and really liked too. Do take a listen.
After bursting onto the scene a couple years ago with an insane mashup of close to 50 odd songs that went viral online, and producing albums with the likes of Coldplay, Madeon's debut album Adventure is everything that electronic music can be but isn't. Often compared to Daft Punk but not because of their musical similarities but rather because of how radical their sounds are, Madeon does indeed sound pretty refreshing, using EDM tools to create something completely unlike it. Do take a listen, Songs like "Innocence", "Pay no mind", and "La Lune" are good places to start.
Also - Coldplay's new album, A head Full of Dreams, is on it's way, and apart from the two-three songs that have been released, there is a short kaleidoscope video with clips from all of the songs. Definitely something to look forward to this week.
http://scholtek.com/minedefense
And do check the wiki. It's worth it.